Saving money can be difficult, but following these simple tips will help you on your journey to financial independence. From getting a side hustle to researching coupons and saving up for an emergency fund, there are plenty of ways in which you can save some extra hard-earned cash.
Saving money is not easy and it takes a lot of work. However, there are ways to save money by doing things like clipping coupons and using the internet for shopping.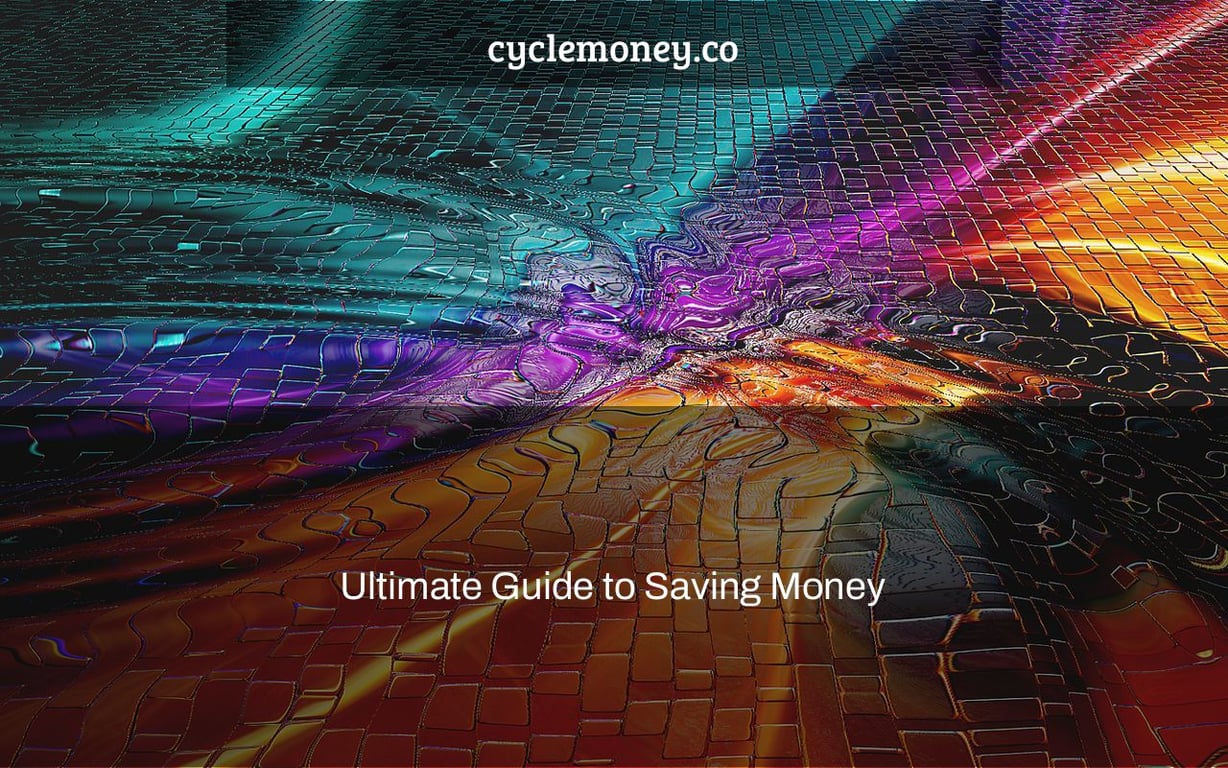 Nearly 40% of Americans have trouble dealing with a $400 emergency [source]. Maybe you've been there before. Perhaps you were unwell but couldn't afford to pay the bill or fill the medication. Have you ever had to commute to work on your bike because you couldn't afford to repair your car?
You'll need money in the bank to get through unanticipated financial difficulties. You must have at least three months' worth of costs in your bank account. However, when you're struggling to make ends meet or don't have two nickels to rub together because your vehicle or student loan payment is more than you'd like, the prospect of saving three months' worth of costs might make you feel worried and helpless.
Believe me when I say that there is a light at the end of the tunnel. If you just do one thing, you can improve your financial situation: spend less than you make.
That is the whole goal of this piece. We wish to assist you in saving money so that you may increase your savings. It's simple. You can practically increase your savings by thousands of dollars. However, you must take action. It all begins with a choice.
15 Ways to Increase Your Savings
1. Save money where you can.
Cutting costs usually entails foregoing the enjoyable aspects of life. What if I told you there was a method to automatically reduce costs? Have I gotten your attention? Take a few seconds to go through these applications and services to discover how you can start saving money right now.
Trim
Consider the Trim App to be your personal money assistant. Trim will use AI to look for ways to save money on your cable and internet bills, as well as monthly subscriptions. Trim will also hunt for subscriptions that you may still be paying for but aren't using.
Simply link your bank and credit cards, and it will scan them for regular payments, prompting you to cancel or negotiate a cheaper rate.
Trim has already saved more than $20 million for its users. What do you believe it will save you in terms of money?
When you join up for Trim today, you'll find out.
Credit Cards with Balance Transfers
If you have credit card debt, you know how difficult it is to pay it off. It's because there's a lot of interest. When you're trapped with a 10%+ interest rate, getting out of debt is like taking a slow boat to China. Let's see what we can do about that…
For 12 to 18 months, balance transfer credit cards charge no interest (actual rate is based on your credit score). That means you may put money towards your debt for a year and pay no interest. It's a chance to make a big dent in your debt.
You have a window of opportunity with balance transfer credit cards. Take interest out of the equation if you want to pay off debt as fast as possible (and with as little money as feasible).
Here's where you can get a safe Balance Transfer Credit Card (look for 0 percent APR)
There are many more options available to assist you in saving money.
2. Get These Three Cash-Collectors
Now that you've figured out how to decrease costs, let's concentrate on boosting your revenue with free money. That's true, you can be paid to perform things you currently do for free.
Here are our top four money-saving applications to help you start earning cash back. To stack your rewards, do yourself a favor and utilize them all at the same time. In the digital era, this is similar to stacking coupons. Let's get started:
Ibotta (bonus of $20)
The average annual income of an Ibotta shopper is $150. Do nothing if you'd prefer the grocery shop have that money. Download Ibotta if you want to get what's coming to you.
Ibotta allows you to earn cash back on your grocery purchases. When you download the app, activate your account, choose your grocery store's cash-back incentives, check out using your app, and watch your free money rise.
Prepare to walk in for what you need and choose, and you'll leave the shop smiling when you realize how simple it is to make free money.
Ibotta is free to download, and when you claim your first free money offer (within 14 days), you'll earn a $20 bonus!
Take a look at how Ibotta works. Take a look at our Ibotta video to learn more.
So, if you like getting free money… Get a free $20 gift card simply for testing out the Ibotta App by downloading it here.
Do you want to know all there is to know about Ibotta? Here's an in-depth look at Ibotta that we believe you'll like.
$$$$$$$$$$$$$$$$$$$$$
How does automatic cash back sound to you? You'll like using the Dosh app since it pays in cash rather than points. Link your credit and debit cards to get cash back at thousands of Dosh-affiliated businesses, restaurants, and online merchants:
3 percent cash back at Walmart
1.5 percent cash back on target
7 percent cash back at Bed Bath & Beyond
Get your first bonus by attaching your first credit card, and then sit back and relax while Dosh takes care of the rest.
Get a $1 welcome bonus by downloading the free Dosh App.
We understand the significance of cybersecurity. Read our Dosh review to see how safe and secure Dosh is, as well as to learn more about the software.
($10 Bonus) Rakuten
Installing the Rakuten (previously Ebates) Chrome (or Safari) browser "button" will provide you access to a world of cash back opportunities. When you purchase online, the Rakuten button will notify you whether there is a chance to receive some cash back. To activate the prizes, just click the button.
Some offers provide cash back of up to 40%. Make a note of it and then forget about it. To bring you free money, Rakuten operates on autopilot.
Rakuten allows you to sign up, save, and be paid (plus you receive a $10 bonus).
Do you already have a Rakuten/Ebates account? To start saving money on autopilot, download the free Ebates/Rakuten browser button here (available on Chrome and Safari).
As you'll see in our entire Rakuten Review, there's a lot to admire about this service.
Do you want to get even more cash back?
> The Top 11 Cash-Back Apps for 2020
3. Open a High Yield Savings Account to get free money.
When it comes to your savings account, are you leaving money on the table? Would you want to earn 15 times more interest than the average interest rate? When you put money into a high-yield savings account, you can achieve it. You will get a greater rate of interest.
The nationwide APY for a savings account, according to the FDIC, was 0.09 percent. You'd earn a measly 90 cents per year if you had $1,000 deposited… less than a buck.
Annual Percentage Yield is abbreviated as APY. The greater your bank's annual percentage yield (APY), the more money you receive for free.
With a 1.55 percent annual percentage yield:
Savings of $1,000 each year is $15.50 in free money.
$5,000 in savings is $77.50 in free money every year.
$15,000 in savings is $232.50 in free money every year.
What would happen if you didn't take the time to create a high-yielding account?
With an annual percentage yield of 0.09 percent:
$1,000 deposited is $0.90 in free money every year.
$5,000 in savings equates to $4.50 in free money every year.
Savings of $15,000 is $13.50 per year in free money… less than what you'd get from a $1,000 deposit in a high-yield savings account.
If you create a savings account without thinking, you'll be losing money in the form of interest due to the low APY.
Let's get things straightened up. Choose a bank with a high annual percentage yield (APY).
Savings Accounts with the Highest Yields
CIT Bank
The greater your bank's annual percentage yield (APY), the more money it pays you to bank with them. So don't be satisfied with an average annual percentage yield of 0.08 percent. CIT's Savings Builder account has interest rates that are at least ten times higher than the national average. For the current Savings Builder APY, see CIT's live banner below.
Check out the CIT Savings Builder account to learn how simple it is to create one and how the interest rates may help you save money.
Open a CIT Savings Builder account now to start earning free money.
Check out our list of the best free checking accounts for 2020.
5. Cash-Back Offers on Almost Everything
Okay, we've reached the end of our fifth and last hack. If you are only average, combining all of these approaches and ideas will have a compounding impact and save you hundreds of dollars every year. Now we'll take it a step further by advising you to utilize credit cards to your advantage, whether they're cash-back or travel rewards cards.
Credit cards are a tool that may assist you in achieving your financial objectives. Take use of them. We don't advise taking on additional debt or purchasing items you can't afford. If you purchase things online, though, use a cash-back card, get Rakuten cash-back points, and let Dosh do its thing.
A parent used to pay his son's college tuition on a Discover cash-back card, something you may not be able to do. If his tuition, room, and board totaled $25,000, he would get a $500 bonus plus a 2% cash back return.
Cards with Cash Back
You get points for every dollar you spend with cash back cards. In general, incentives range from 2% to 5%, although they might be more, particularly during an initial deal.
On Credit Land, there have been a number of recent deals, including:
5 percent cash back on a rolling basis
1.5 percent cash back on all purchases + a $150 one-time bonus
On everything, you'll get 2% cash back.
Visit Credit Land to discover the best cash back credit card for you and start earning more rewards.
Cards for Travel
When it comes to cash back credit cards, we talk about points, but when it comes to travel credit cards, we talk about miles. We're talking about the same thing whether we're talking about points or miles: rewards. Keep in mind that 100 miles amounts to around $1 in travel rewards while looking at travel cards.
You may be wondering why you should acquire a travel rewards card if you don't fly much. These aren't frequent flyer programs. They accumulate monetary rewards that they may use to travel. Some credit cards can reimburse you in cash. When you use your card at grocery shops, restaurants, or petrol stations, certain cards may earn you 2X miles.
However, certain travel cards are connected to airlines and can provide you with benefits such as a free first checked bag for your complete family. For a family of four, that's a savings of $200 round trip. Keep that $200 in your account!
There are a lot of choices when it comes to travel credit cards. Look for one that offers a sizable sign-up bonus. The sign-up procedure will provide you with the most miles.
Check out Credit Land's travel rewards cards to see which one is ideal for you.
What you can do with your credit card to earn money
You should never fall into credit card debt if you want to earn money with your credit card and increase your savings quicker.
The idea is to pay off your amount on a monthly basis. You don't want to be in a situation where you're paying 15-20% interest on your balances simply to get 2% cash back. That makes no sense and contradicts all we teach.
Also, check out Dave Ramsey's 9 Debt-Free Tips.
6. Use a budget to spend money strategically.
Budgeting may be a four-letter term for some people. That's a pity. We have discussed how money led to a lot of stress, anxiety, and sleep deprivation. Budgeting might help you get rid of a lot of it.
A budget is nothing more than a strategy for achieving financial independence. Make a list of all your costs and compare them to your income. Then devise a strategy for spending less than you make.
Make a firm commitment to your strategy. It's a guide to a brighter future for you. As you find out where you can minimize costs, each month should get simpler. At the same time, you'll reap the benefits of all of your hacks.
We've showed you how to decrease spending, save money using cash back applications, and get a better interest rate on your savings so far in this article. But, for now, we'll concentrate on improving how you manage money so that you may save more and enjoy a life of financial stability. It all begins with a choice.
"Assist me in getting out of poverty!"
Spending less than you earn is the *only* method to save money. That implies you'll either need to cut costs or boost your revenue.
We wish to assist you in achieving both goals.
Learn the principles of generating wealth at our FREE Simplify Money Workshop. Because your money has no option but to increase if you can spend less than you make. You will increase your savings and reduce your debt.
Plus, there's more. We've compiled a list of free money-saving tips for you:
How to Cut Your Monthly Bills in Half
Debt-reduction strategies
How to Get Started Investing
How to make an additional $20 each month with a few simple hacks (with no extra effort)
This course will provide you with everything you need to follow the cardinal rule of personal finance: maintain your income higher than your spending.
Start expanding your money now by enrolling in our free 5-day Simplify Money Workshop.
More money saved! Take a look at the following…
Spend Less at Your Favorite Stores:
Watch This Video-
The "5 tips on how to save money" is a guide that includes 5 different ideas for saving money.
Frequently Asked Questions
What is the 80/20 rule in savings?
A: The 80/20 rule states that 80% of the effects come from 20% of the causes. This means that a large number of small changes, which can be made over time by individuals in their own lives, is much more effective than making one big change at once.
Whats the 50 30 20 budget rule?
A: It is a rule that states the amount of money you need to save in order for an average person to be able to afford 50% of their current lifestyle by age 30, and have 20% saved up by age 40. As your income increases, you increase your savings percentage
What is the 30 day rule?
A: If a person does not reply to you in 30 days, they are no longer interested.
Related Tags
best way to save money for a house
best way to save money for future
how to save money each month
10 ways to save money
how to save money essay